In the last blog post I talked about the test-interface-board. There were some concerns about the use of FT232H chip and extra features like voltage and temperature measurement were not required. Keeping in view all the suggestions and improving things on my side I have redesigned the board.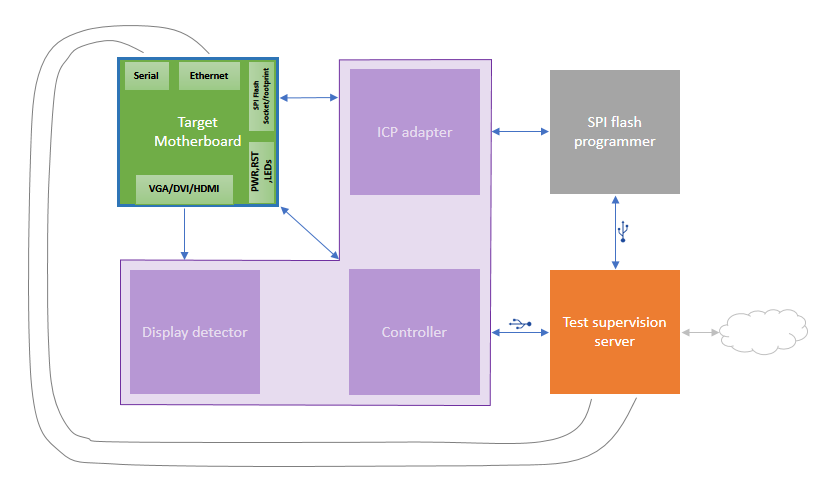 The figure above shows only one target board connected to the test supervision for simplicity. The purple L-block is the test-interface-board. This time, instead of using an integrated flasher I wish to support all existing flashers so I have developed an ICP adapter. An In-Circuit Programming (ICP) adapter contains the firmware flash memory removed from the motherboard and it acts as an electronic change-over switch that connects this flash memory to the motherboard or the programmer as required. It also includes logic-level translation to support as many as possible combinations of programmers and motherboards. The support for programmer voltage is in range 1.2V-5.5V and for motherboard SPI voltage it's in range 1.65V-3.3V.
As a quick test for VGA initialization I've added video detection for Analog video (VGA), DVI and HDMI ports. This checks presence of signals that are only there when video is active. In other words, it checks whether a monitor's status led would turn green if it's plugged to the motherboard without actually plugging one. I have prepared schematics, some parts of which are yet to be validated through prototyping. This will all be implemented as an Arduino add-on board (aka Shield) for convenience and the Arduino would act as the controller.
The Serial and Ethernet ports can be connected in the usual way using Serial-to-USB cables, Ethernet cables and hubs. Continue reading →